High Park Toronto
High Park is Toronto's largest public park featuring many hiking trails, sports facilities, diverse vegetation, a beautiful lakefront, convenient parking, easy public transit access, a dog park, a zoo, playgrounds for children, a couple of eateries, greenhouses, picnic areas, a bunch of squirrels and various events throughout the year.
On this website you can find information about High Park to help you plan your visit and to learn what makes this beautiful park a true gem in the Southwestern part of Toronto. You can also view pictures of the park either on the photo gallery page or using the image slideshows located on every page.
If you know of any updates or other info that we missed while we were reviewing High Park please send us the updates. Your feedback keeps the site up to date and accurate for everyone to enjoy. Thank you!
Ask and answer questions, read reviews and post your comments on the High Park forum pages.

High Park is home to a many cherry trees, called Sakura trees, that bloom in April or May - depending on weather. The beautiful white and pink cherry blossoms attract thousands of visitors to the park each year.

From wild forests to the Chinese gardens High Park has a truly genuine and beautiful vegetation - well taken care of by the city. Regardless of when you visit the gardens are always beautiful.

A walk along the Grenadier Pond on the west side of High Park will make you forget you are in the largest city in Canada. You will find ducks, geese and hiking trails by the lakeside. A popular destination by runners, hikers and families alike.

The park has a designated off-leash area for dogs and several paths where dogs are allowed to run free. While the dog park is not completely fenced in it is surrounded by natural borders such as thick bushes and trees.

The mini-zoo at High Park has llamas, buffalo, bison, deer, peacocks and a few other animals including cats and pigeons:) The zoo is open from 7am until dusk. Free admission.

Tennis courts, baseball diamonds and soccer fields are all present inside the park but many other sports can be played on the large grassy fields.

The Jamie Bell Adventure Playground is a large, unique play area designed in part by children. Make sure to include a visit to this adventure park this summer with your kids!

The 18 designated picnic areas seat hundreds of people. Reservation required for larger groups.

Whether you are taking your bicycle, the subway or your car these maps can help you get to the park and to find your way around the park once you arrived.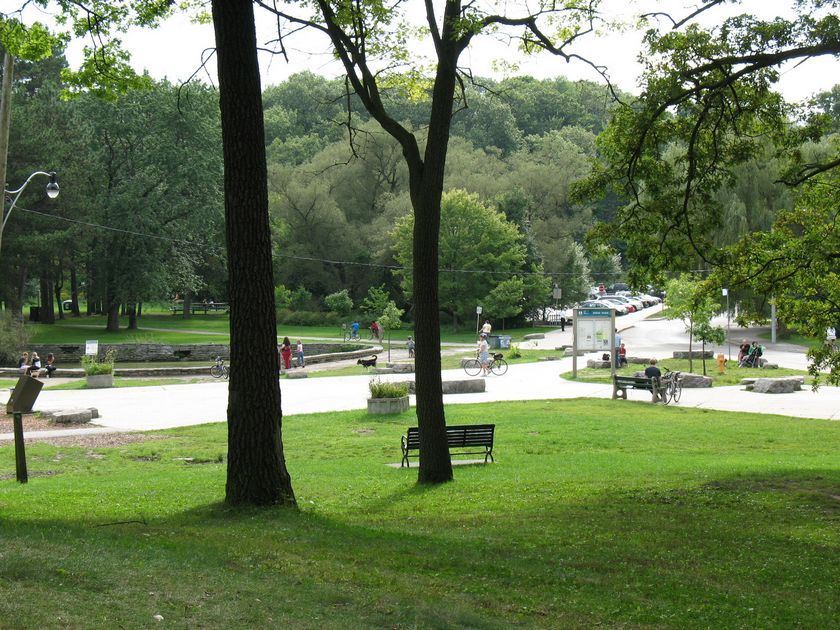 View more images
A Brief Overview of High Park
I've been to High Park many times but each time I bump into something new, discover yet another hidden corner or see a beautiful tree I never noticed before. Let me give you an idea just how large the park is: me and my two-year-old Golden Retreiver were zig-zagging through the park one day to take pictures but she got tired so I had to return with my camera two more times to take some more shots. Few other dogs have as much energy than young Goldens. Yup, that's how big it is.
If you really want to see the many faces of High Park you need to go in spring when nature is wide awake and everything is in full bloom, you also need to go in the fall when golden leaves cover the ground as far as the eye can see and you need to go in the winter to see just how beautiful ice and snow can be. Don't always come during the busiest times; High Park is most peaceful and relaxing early in the morning and after twilight. Here is a list of holidays in Canada 2018 to help you plan your visit.
Around blooming season I visit the park occassionally with my camera to take new pictures and post new info and updates to this site.
The park is easily accessible by streetcar and subway (see directions). If you're in the area it's worth to take a walk around the park as the neighbouring streets are very nice with lots of mature trees and interesting house fronts. The arts and crafts shops and cafés on Bloor West are also within walking distance from the park.
High Park is operated by the City of Toronto and you don't have to pay an admission fee to visit it.
What can you do in Toronto's High Park?
The short answer is that you can do pretty much everything that can be done in most large parks:) High Park's 399 acres in the middle of Toronto is an excellent getaway for children and adults of all ages. There are many designated children's playgrounds, sports facilities, 18 picnic areas, hiking trails, large green spaces, waterfront trails, benches galore and the list goes on and on.
If you need additional information about High Park please call the City of Toronto Customer Service Centre at 416-338-0338.
This website is maintained independently and it is not affiliated in any way with the City of Toronto or other High Park related groups. For more information you may visit the official City of Toronto website pages about High Park.