A park of flowers, trees and gorgeous plants
High Park has so many different plants and trees and flowers that you will discover a new species or pick a new favourite tree each time you visit the park. The most famous part is Hillside Gardens which starts by the restaurant in the middle and ends by the lakefront. If you're looking for more privacy, however, and enjoy quiet walks then the best places to visit are the long winding network of trails that are not as prominent to the weekend-visitors and many times you can walk for a long time and only come across squirrels and birds along the way. If you like company and prefer to be around lots of other people then the area around Grenadier Café and the duck pond are that places to be.
The Hillside gardens are spectacular every day of the day. There are several waterfalls in the middle of the gardens and two small bridges and the flowers around the water are breathtakingly beautiful. Don't forget to bring your camera! You can take hundreds of pictures and they'll all be unique - High Park is truly a photographer's paradise.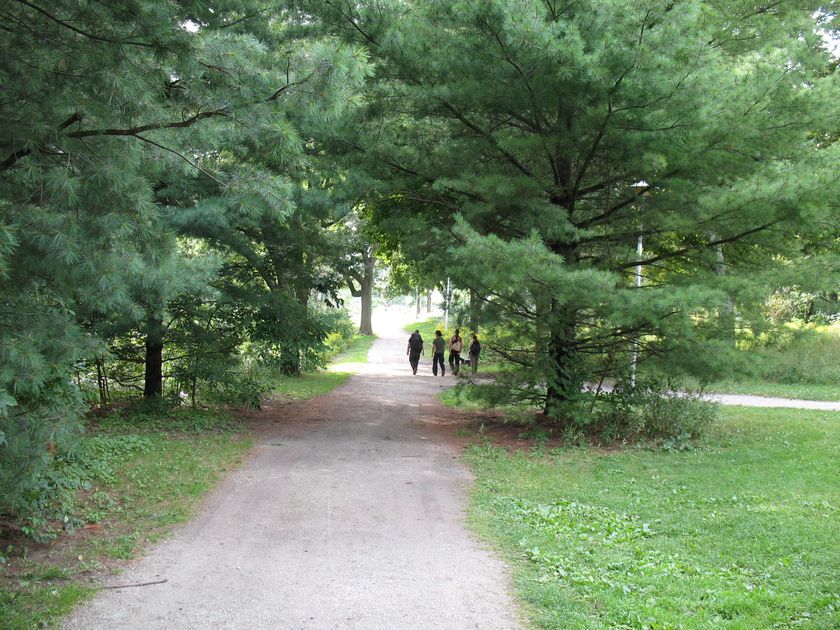 View more High Park nature pictures
Probably the best known landmark in the park, however, is the maple leaf at the bottom of Hillside Gardens, which is also clearly visible from satellite images. Depending on the season the leaf is made up of blooming, colourful flower, ivy, or other plants. You can get a great view (perfect for pictures) from the top of the hill but you can also walk into the "maple leaf circle" and take a close look at the leaf.
Most first time visitors stay near Hillside Gardens but there is so much more to see - you must return to High Park over and over again! The lakeside trail is perfect for a long walk and if you start by the maple leaf you can make your way up north and into the West Ravine Trails winding between the trees of this mini forest.
Similar hiking trails can be found on the east side as well - some are pretty steep but an alternate path is always near by.
Nature photography is allowed as long as you stay on marked trails and don't disturb the parks ecosystem. I've seen photographers who jumped the fences and setup their tripods and destroyed vegetation to get a nice shot - such behaviour is not appreciated or permitted!
Please note that wedding photography, however, is not permitted at Hillside Gardens. (Can you imagine several wedding parties rumbling through the gardens every weekend?) For wedding photography information call 416-392-8188.
Cherry blossoms
Due to the popularity of the Sakura trees, there is now a separate page dedicated to provide information about the famous Japanese cherry trees: cherry blossoms and trees.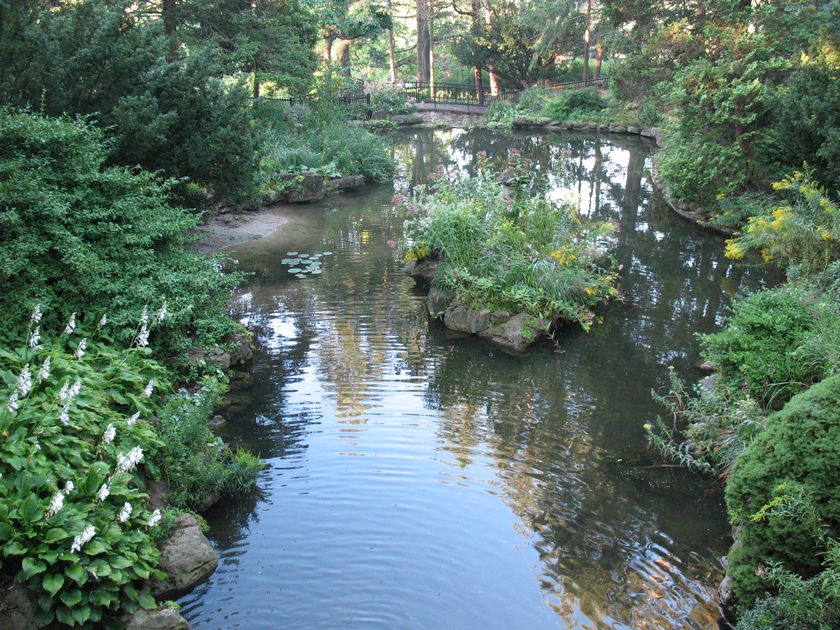 View more High Park nature pictures
Ryerson University Instructor Video
Jenni Hayman (Instructional Designer, Ryerson University Chang School of Continuing Education) sent us a link to a series of videos developed as part of a Ryerson course on Ecology and Sustainability.
These videos are a great virtual field trip guided by an expert on the topic. (Works on mobile and desktop computers.)
Here is the Tiny URL link goo.gl/XzHkQ or you can also click here for the video.
Look, a stout!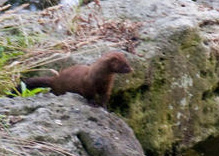 Jon sent in this picture of a little creature. It's most likely called a "stoat"...but nope...it turned out in the meantime that it's a mink (thanks Mike!)
More of Jon James' photos of High Park.